News Archive
2020
Summer Promo
1st December, 2020
We here at Web Key IT have a lot to be thankful for this year. It's been a year of chaos for most of the world, but for us we have been fortunate enough that all our employees work safely from home, and we've continued to experience growth and influx of work throughout the year.
As a token of our appreciation, we've decided to offer special summer promotion for December 2020-February 2021 where we are offering a WCAG 2.1 audit on your website or app for the price of a WCAG 2.0 audit.
Click here for more information on this great deal!
---
Featured in Business News, WA

12th June, 2020
We were featured on the Business News WA website- check out the article here!
---
White Paper Release for GAAD
21st of May, 2020
Happy Global Accessibility Awareness Day! To honour this event today, we have released our white paper, "Digital Accessibility: Perceptions, Expectations and Reality" which is available free of charge from this page. This paper is the result of research conducted last year with both organisations and individuals in Australia and internationally. Organisations were surveyed to ask their perceptions of the importance of digital accessibility and the accessibility standards of their websites and other digital material. Individuals, both with and without disability, were asked about their chief issues with websites, applications etc., and what they felt of the current state of digital accessibility. The results of these surveys were then compiled and Web Key IT has produced this white paper showing the reality both in Australia and internationally. The research is unique in that it surveyed both groups at the same point of time, producing some very interesting results. We would like to thank all who participated in the research and invite everyone to download the paper free of charge. We look forward to hearing your feedback!
---
Online Training Course
13th of May, 2020
Web Key IT is offering a one-week online training course in Digital Accessibility. The course features interactive live lectures by digital accessibility experts and includes additional short assignments leading to the awarding of a Certificate of Completion. Find out more here!
---
Flinstones or Jetsons?
27th of April, 2020
Vivienne Conway's Keynote from the W4A Conference for 2020 "A return to community: Flintstones or Jetsons?" is now available online on the ACM Digital Library website, available here.
---
Keynote Speaker Web4All 2020 Announcement
24th March, 2020
We are very proud to announce that our own Director, Dr. Vivienne Conway, will be one of the Keynote speakers at this year's W4A 2020 Conference. Her topic is "A Return to Community: Flintstones or Jetsons?" which you can read more about here.
Registration for the Web4All conference is available at WebConference 2020. Please note, choose the 1-for-5 online registration, as this gives you access to Web4All and ALL presentations at The Web Conference 2020, Taipei from April 20-24.
---
ECU 2019 Web Key IT Web Accessibility Prize
10th March 2020
Congratulations to Woongyeol Choi, who won our Web Accessibility Prize at the ECU School of Science Prize Giving Ceremony on March 6th at Joondalup Resort. We are so proud to have sponsored this prize again this year, and to present it to such a worthy candidate. Well done Woongyeol!
---
Special Visitor: Karen Myers
16th February, 2020
On Friday morning at Empired offices in Perth's CBD, Karen Myers from the W3C gave a great talk about the wide breadth of work W3C is currently doing. The event was sponsored by Web Key IT, Empired and the W3C.
From left to right: Graeme Hill – Practice Lead Digital WA, Empired Ltd, Damian Fischer – Business Development Manager APAC - Ashurst, Damien Herbert – Practice Lead Digital WA, Empired Ltd, Shaun Choo – Digital Advisor – Lenox Hill, Amanda Mace – Operations Manager – Web Key IT, Karen Myers – Business Development Leader Americas and Australasia, W3C, Michael Carter – Manager International Trade and Investment Centre, WA Chamber of Commerce, Eugene Lim – President, Singapore Chamber of Commerce (WA)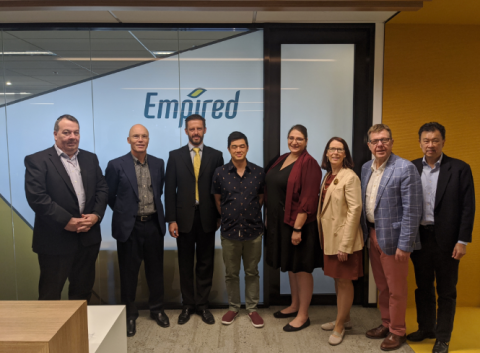 ---
EPUB and Digital Publishing Survey
15th February, 2020
The Publishing Business Group and the EPUB 3 Community Group within the Publishing@W3C activity have put together an EPUB and Digital Publishing Survey to gather information about the current use and future needs for the EPUB standard and other publishing interests to help guide our work. We are reaching out to you to ask that you participate by answering our EPUB and Digital Publishing Survey and that you share the survey with your colleagues and anyone you can think of who may have input. You can access the survey here.
---
City of Cockburn WALGA Article
15th of February, 2020
This week, we made WALGA's Western Councillor Newsletter on how we've assisted the City of Corkburn with achieving WCAG 2.1 Accreditation. You can read all about it on page 9 of this link: Western Councillor Issue 105.
---
Working with W3C on "Introduction to Web Accessibility" Online Course
13th of January, 2020
We are currently working with W3C developing the new "Introduction to Web Accessibility" free online course. This is in cooperation with UNESCO IITE, and she will be teaching the Business Case and Benefits (Module 3 of 5).
Enrolment is now open to access course information. This link, connects to the syllabus and information about other modules: Introduction to Web Accessibility Enrolment. You can read more about the course at Press Release on Introduction to Web Accessibility Course. The free online course is now open for enrolment which will commence 28 January, 2020.
Read all about the development of this course and view photos from behind the scenes of filming here!
---
Human Rights Commission Discussion Paper
3rd January, 2020
The Australian Human Rights Commission has now released their Discussion Paper on Human Rights and Technology, to which Web Key IT was a responder. They are welcoming comments and input if you'd like to get involved in a worthy project. A noteworthy finding was a need for more accessible technology for people with disabilities, which is very encouraging! View the paper here.
2019
Introduction to Web Accessibility
3rd December, 2019
On the International Day of People with Disabilities, W3C launched a press release on their new "Introduction to Web Accessibility" free online course in cooperation with UNESCO IITE for which Web Key is one of the instructors! You can click here to view the course with enrolment details . It is a free 5 module course, and participants only pay if they want a certificate.
---
Australian Accessibility Conference Sponsors
28th of November, 2019
Web Key IT and Vision Australia are sponsors for the 2020 Conference, as we both have been for so many OZeWAI conferences over the years, finally in our hometown! We are really looking forward to this conference and everything leading up to it, and would love to have you come along- see events below for details.
---
Beanie the Cat
9th of September 2019
Come meet Beanie and understand a little more about accessibility. Click here to view on YouTube if you'd rather, with all video text in the description area.
---
WALGA Preferred Supplier
22nd of July 2019
Web Key IT is now a member of the 'Audit & Compliance Services' supplier list which is provided by the WALGA Preferred Supplier Arrangement. If you are a WALGA member, you are able to access our services directly through eQuotes. More information on the Arrangement is available at WALGA Preferred Supplier Program. Being a member of the Panel, means that you do not need to source additional quotes, saving you time, risk and money.
---
New YouTube Channel
17th July 2019

Our new YouTube Channel is live! We've got our first video up there now, with more to come. This video has no speaking, only background music. A transcript of the video can be downloaded here.
---
Research Surveys
20th July 2019
Web Key IT are conducting research to understand the current trends in digital accessibility from the point of view of both the organisation and that of the individual using websites, applications etc. We have two really short surveys (about 5 minutes) and we are hoping that we get sufficient response to collate meaningful and current data. Would you please complete it? Also, if you'd send it to your own lists, we would be very appreciative. We will make the results available for everyone via our website. Thanks so much for your help and distribution.
If you represent both yourself and your organisation, you are welcome to complete both surveys. Please contact us at info@webkeyit.com if you want any information about the surveys.
For Individuals: Understanding the Digital User Experience
For Organisations: Digital Accessibility for Organisations
---
IAUD International Design Award
16th of July 2019
The International Association for Universal Design (IAUD) conducts activities aimed at achieving its basic objective: "To contribute to the healthy development of society, and improve the welfare of humanity as a whole, through further disseminating and actualizing of Universal Design (UD)."
In that vein, Design For All Foundation will be presenting IAUD International Design Award, which will recognize groups and individuals who have conducted or proposed particularly noteworthy activities aimed at realizing a UD society in which everyone - regardless of age, gender, nationality, ethnicity, culture, nationality, customs, or other factors - can live comfortably, without feeling any undue inconvenience.
Deadline for the 1st selection: July 31, 2019
Deadline for the 2nd selection: October 15, 2019
Application Requirements for IAUD International Design Award 2019
---
Book Chapter
8th of July 2019
We wrote a chapter in a book! Our Operations Manager Amanda Mace and Director Dr. Vivienne Conway wrote the chapter on Documents & Publications (pages 337-355) which you can look at here!
---
Australian Access Awards
28th of June 2019
Web Key IT is proud to be a sponsor and judge of the Australian Access Awards along with VisAbility, OZeWAI, ACCAN, Centre for Inclusive Design and the Attitude Foundation. This is an annual event celebrating organisations that have successfully implemented accessibility in their digital campaigns or resources.
It's time to get nominating! Nominations close on Friday the 30th of August 2019. More information can be found at http://www.accessibility.org.au/awards/.
---
W3C/ANU Roadshow
3rd of March 2019
Dr Conway recently chaired and spoke at the W3C/ANU Roadshow "Who is Managing your Privacy and Identity on the Web?" which was held in Melbourne, Sydney and Canberra in February. Slides from the event are now available for public viewing here with links next to each speaker's name.
---
PWAC 2019
22nd of February 2019
Perth Web Accessibility Camp 2019 was held on the 12th of February at VisAbility, and was a great success! It was wonderful to see so many of you there this year! The Keynote was Professor Denise Wood from Central Queensland University with the topic titled 'Designing Culturally Responsive and Inclusive Online Learning Environments: An Evidence-Based Approach'. It was incredibly eye-opening and discussed how people with disability engage with learning tools and some of the challenges they may face. Scott Hollier did a beautiful job of summarising the event on his website here. We hope to see you all next year as well!
---
2018
Human Rights and Technology Issues Paper
18th November 2018
On November 15th, our Director, Vivienne Conway was invited by the Australian Human Rights Commission to attend a Round Table to discuss the "Human Rights and Technology Issues Paper". This discussion group included representatives from government, industry and disability support groups. Discussion revolved around developing innovative ways to ensure technology protects human rights or all members of the community, encouraging responsible innovation. Questions explored including Artificial Intelligence, Assistive Technology and issues of responsible innovation and assistive technology for people with disability. The Issues Paper and information about the project on human rights and technology can be located at: Human Rights and Technology Issues Paper (2018).
---
Looking for Participants for a Research Project
24th September 2018
A Curtin University Senior Research Fellow, Dr Anna Hampson Lundh, is currently looking for people who are blind or vision impaired who are willing to be interviewed for an hour about their use of text-to-speech tools, talking books, and other audio-based technologies to read for their postgraduate university studies. If you would like to know more about this research or are interested in participating or forwarding recruitment materials, please contact Anna on anna.hampsonlundh@curtin.edu.au or 08 9266 7291.
---
1st September 2018
Where: ATI-Mirage Training & Business Solutions
When: 17th September 2018, 9am-4pm
Cost: $450 plus GST (includes lunch and all learning materials)
For more information check out the flyer (PDF, 268 KB) or email training@webkeyit.com
---
1st August 2018
We are very excited to release our new brochures describing our services, vision, and helpful information about the importance of digital accessibility. Please go to the 'Resources' page and use the tab on the left-hand side titled "Brochures" to obtain downloadable (and accessible) copies of these brochures (alternatively click the heading above!). While they are all in English, some have been specifically designed for our Australian customers and some for our Gulf Cooperation Council customers. Very shortly we will have the GCC brochures also available in the Arabic language. Please let us know what you think of our new material. If you would like physical copies of the brochures, please let us know and we will send them to you or bring them when we next meet.
You can contact us by emailing info@webkeyit.com
---
Certificate in Digital Accessibility Course
17th July 2018
Our Digital Accessibility Certificate course is running again in August!

This certificate level program covers all major aspects of Digital Accessibility. It was held in both March and May already this year and deemed fantastic successes! During the course, participants will prepare a Digital Accessibility Action Plan for their organisation and conduct an initial high level review of the organisation's digital resources under the guidance and support of Web Key IT's accessibility experts. The sessions include training in website accessibility, digital documents such as MS Word and PDF, a look at mobiles/tablets and looking at the business case for digital accessibility. As an extra bonus if you are an ACS member, you can also gain professional development hours.

Things you need to know:
Where: ATI-Mirage Training & Business Solutions
Cost: $3250 per person (excluding GST) covering all learning materials, equipment, lunch and morning/afternoon tea.
When: Each Thursday in August 9am-4pm
Note: All 5 sessions can be taken by one individual or split between team members, or of course, more than one person from an organisation can enroll and take the course together.

For more information or if you would like to enroll, please email training@webkeyit.com
---
Web Content Accessibility Guidelines (WCAG) 2.1
6th of June 2018
The Accessibility Guidelines Working Group has published Web Content Accessibility Guidelines (WCAG) 2.1 as a W3C Recommendation at: https://www.w3.org/TR/WCAG21/
The document received broad support from the W3C Advisory Committee and the W3C Director approved the transition to Recommendation. That means it is a stable standard ready for general implementation.W3C encourages organizations and individuals to review and update their policies to reflect the updated guidance provided by WCAG 2.1, in order to address more user needs in their websites.
All requirements ("success criteria") from 2.0 are included in 2.1. There are additional success criteria in 2.1. They are introduced in "What's New in WCAG 2.1" at: https://www.w3.org/WAI/standards-guidelines/wcag/new-in-21/
More information about this publication and next steps are in the blog post: https://www.w3.org/blog/2018/06/wcag21-rec/
More information about the Accessibility Guidelines Working Group is available from: https://www.w3.org/WAI/GL/
Tweet: https://twitter.com/w3c_wai/status/1003998126842302470
---
Redesigned W3C WAI Website
16th of May 2018
The beta is now live! Check out: https://www.w3.org/WAI/
(you might need to refresh your browser)

The redesigned W3C WAI website makes it easier to get information to help you improve web accessibility. The visual design, information architecture, navigation, and overall user experience is all new.

The redesign makes it easier to skim pages, read content, find specific information, and discover new resources. It's also easier for the community to be involved in improving resources.

Much of the content is revised and they plan to revise more content in the coming months as well as enhance the visual design of the home page and throughout.

See this github link for:
Planned Changes and Known Issues
Acknowledgements
How to Comment
---
WAITTA Incite Awards: 2018
16th of April 2018
Congratulations to the City of Cockburn for being named a finalist in the category "most effective government solution" , for the City of Cockburn Website Redevelopment Project, at the 27th Annual WAITTA INCITE Awards. The City of Cockburn has put incredible effort and dedication into ensuring that their new websites are accessible for people with disabilities and Web Key IT is proud to have worked with them over the past couple of years. These websites set a high standard for other Local Government websites to follow. Read more about the finalists and awards here.
---
Radio Advertisement on 6PR
19th of March 2018
Have you heard our new radio advertisement? If you are in Perth, WA, you may have heard us on 6PR! It will be running for the next two weeks thanks to our friends at Macquarie Media. If not, you can listen by clicking this link: 20180319-6PR-Ad.MP3
Email us today, mentioning this advertisement, and you will receive 50% off a Learn @ Lunchtime Seminar (worth $1,650) to get you started on your website accessibility journey!
---
New Kuwait Office
12th of March 2018
We are excited to announce that Web Key IT Pty Ltd has recently opened an office in Kuwait City, located on the 4th Floor of the Panasonic Tower. The office is staffed by our local agents and headed up by Muhammad Saleem who has completed his Master's Degree ( Have a look at this thesis, Web accessibility compliance for e-Government websites in the Gulf Region), and is currently working on his PhD. Muhammad and the staff in the Gulf Cooperation Council (GCC) Office will be working closely with the Australian office to fulfill our joint goals of improving digital accessibility around the world, making life better for people with disabilities and seniors.
Very shortly, you will see Arabic content under the 'GCC' tab on the top navigation of our website and we encourage our customers to take a look. Because of the enormity of this undertaking, Vivienne will be doing some travel over the next few months to and from Kuwait, UAE and Qatar. Amanda Mace, our Operations Manager is always available to assist you with your accessibility needs (as Vivienne is only ever a phone call or email away). Our Administrator, Emma Murray, is happy to answer email enquiries. Please note we have recently updated our Contact Us page to provide easier email access to our staff.
---
2017
ACS Annual Diversity Dinner
8th of December 2017
We had the pleasure of attending the ACS 2017 Annual Diversity Dinner held on Friday the 8th of December at Crown Perth. Our very own Dr. Vivienne Conway did the Locknote address about the fact that when we share each others' burdens, they don't seem as heavy. She drew on the popular song 'He Ain't Heavy', by The Hollies for inspiration, and demonstrated how a sense of caring for others should permeate our whole organisation. We all have a responsibility to ensure the well-being of others.. We'd like to thanks ACS WA for such a fabulous evening, and to thank the other wonderful speaker Lisa Evans from Speaking Savvy Public Speaking & Storytelling for her story. If you'd like to see the photos from the event, please click here.
---
ACS Digital Disruptors Awards
November 2017
A big congratulations to our very own Dr. Vivienne Conway on receiving the Gold Disruptor ACS ICT Professional of the Year Award on November 2nd 2017!
The ACS Digital Disruptors Awards recognises individuals who demonstrate high levels of professionalism and achievement through six (6) award categories. The ICT Professional of the Year demonstrates excellence in their field of ICT. They are active in their continuing professional development and display the highest standards of professional ethics. They use their technical knowledge to be a positive role model and influence the workplace to the highest standards both professionally and ethically. You can read about the winners here and read about the award criteria here.
---
WAITTA E-Newsletter
June 2017
Read about all the amazing WAITTA INCITE Awards and National Award winners including our own Dr Vivienne Conway.
---
PEAT Talks: The Future of Accessible Work
May 2017
'In celebration of Global Accessibility Awareness Day (GAAD), W4A Conference Chair Vivienne Conway recounts the top trends emerging from the global conference Web For All 2017: The Future of Accessible Work.'
The video of the talk together with the transcript and slide downloads are now here on the PEAT site.
---
Being accessible is good for business
May 2017
Learn at Morning Tea event.
Learn the value of being accessible with digital accessibility expert Dr Vivienne Conway of Web Key IT at sixty27's "Learn at Morning Tea" free event.
A closed door shuts down the income source for any business. Why the
n do we consider opening businesses where the digital shop front is closed to at least 20% of the population - those who have disabilities? Actually, the potential loss is closer to 50% because there are other issues to consider such as English as a second language, limited literacy and multiple factors which when combined make digital access difficult.
Visit the City of Joondalup Events for more information.
---
2015
Do I really need to check the accessibility of my documents?
2015
At Web Key IT, we are regularly asked for advice and assistance in creating accessible documents, particularly by organisations striving to host these documents on their websites. Most website owners are aware that any content you host on your website needs to meet the Web Content Accessibility Guidelines, Version 2.0 (WCAG 2.0) (W3C, 2008). These guidelines have been created by the World Wide Web Consortium, known as W3C. In Australia this normally means meeting Level AA of WCAG 2.0. Basically if you need an Internet connection to reach the document, and this includes email of course, the document must be accessible. If the document is in printed copy only, these requirements do not apply. Read more about checking documents for accessibility.
---
Web Accessibility Camp 2015 Wrap-up
July 2015
The Perth Web Accessibility Camp was held on Wednesday, 22 July 2015 and saw a record number of 121 attendees. We were very fortunate to have the Camp sponsored by Bankwest who provided the venue on Murray Street, Perth as well as food and refreshments throughout the day. We added a Sundowner this year for the first time, sponsored by Permeance Technologies. Read more about the camp wrap up.
---
2014
WCAG-EM: a powerful tool in trained hands
July 2014
On July 7, the Web Accessibility Initiative (WAI) of the World Wide Web Consortium (W3C) officially announced the release to the public of the completed Web Accessibility Conformance Evaluation Methodology (WCAG-EM).
Apart from the continuous stream of acronyms, this is really good news for anyone involved with website accessibility. This of course includes those organisations (most of us) with websites, those who are involved with testing them to see if they comply with WCAG 2.0, government and eventually, the users of those websites. Read more about WCAG-EM.
---
2011
Website Accessibility in Western Australian Public Libraries
Site accessibility which attempt to ensure that everyone has the same opportunities to use materials published on the World Wide Web (Web). This article provides a summation of the research conducted into the accessibility of public library websites in Western Australia. A discussion is provided of the website audit methods used and results obtained. The research demonstrates the level of compliance with Australian and International standards as well as results of surveys used to determine the perceived willingness to comply with those standards, barriers to compliance and benefits of an accessible website. Read the full article about Website Accessibility in Western Australian Public Libraries
---
2010
Web accessibility issues with Blackboard at Edith Cowan University
Website accessibility is a very real and pressing issue in Australia and internationally. Tim Berners-Lee credited with founding the Web, states "The power of the Web is in its universality. Access by everyone regardless of disability is an essential aspect" (Henry & McGee, 2010). This paper is the result of research conducted into the website accessibility of Blackboard as implemented at Edith Cowan University. This well-known commercial Learning Management System is used for e-learning access and content delivery. Testing was conducted to determine the level of adherence of Blackboard to internationally-recognized best practice web accessibility guidelines. An analysis of the results of this research demonstrate that while Blackboard scores "better than average", this still constitutes a failing grade in terms of overall usability for people with visual disabilities. Incorporation of the features of the WCAG 2.0 would ensure that Blackboard meets current best practice guidelines. Read the full article about web accessibility issues with Blackboard at ECU.