News
Web Key IT aims to provide web accessibility solutions for our clients. The world of web accessibility, similar to the world of IT itself, is forever evolving and changing, and we pride ourselves at being at the forefront of the latest information and news. This page highlights some of these changes and the continual development of web accessibility.
---
Latest Web Key E-Newsletter
June 2021
Our latest newsletter is about: It's All About Awareness
Read the latest Web Key IT e-newsletter
Sign-up to receive our e-newsletter here
---
WALGA 2021 Local Government Convention

16th March, 2021
This year's annual WA Local Government Convention and Trade Exhibition will be held at Crown Perth from Monday, 20 - Tuesday, 21 September and offers an exceptional opportunity for business development and relationship building with the Western Australian Local Government sector. We are proud to announce that Web Key IT will be an Exhibitor at this convention, and look forward to utilising the theme Leading the WAy: Looking Forward, Looking Back and meeting with 450 Elected Members and Local Government CEOs from across the State. You can find more information on this event on our Homepage in our Upcoming Events section.
---
Most Accessible Community in WA Award
17th March, 2021
Entries are now open for 2021 MACWA awards. To download submission document, please click here. All submissions will need to be completed by 31st July 2021, alternatively you can email submissions to Jane Lewis.
---
Upcoming Training
10th March, 2021
We are currently seeking expressions of interest for our very popular 5 Day Certificate in Digital Accessibility course! This is an in-depth course, occurring once a day over 5 weeks for an entire day (each Monday in May). In addition to web accessibility standards, testing methods and principles, it provides guidance in creating and testing digital documents like PDF and Word documents, specific screen reader training and mobile accessibility testing, as well as the development of an Accessibility Action Plan for your organisation. If you are interested in signing up for this course or would like more information, please get in touch with us or find out more here.
---
International Women's Day
8th March, 2021
Today, 100% of Web Key's senior management and more than 66% of our staff are women. This is an incredible achievement, particularly in the IT industry where women make up on less than 28% of the workforce. The charity we chose to support this year is Zonta House Refuge. Zonta House provides much needed refuge and transitional accommodation, holistic support services and education to women over the age of 18. If you'd also like to donate, please visit: http://zontahouse.org.au/donations/
---
Upcoming Training
14th January, 2021
Upcoming Training Dates:
March 10th- Digital Accessibility 101 Course & March 11th- Accessible Documents Course
Both held at the lovely ATI Mirage, includes lunch, morning & afternoon tea. Each course is $450, or the discounted price of $810 for both
More information can be found here, or register here today!
---
W3C Accessibility Guidelines Working Draft
28th January, 2021
The Accessibility Guidelines Working Group (AG WG) has published a First Public Working Draft of W3C Accessibility Guidelines (WCAG) 3.0. WCAG and supporting materials explain how to make web content, apps, and tools more accessible to people with disabilities. W3C Accessibility Guidelines (WCAG) 3 has several differences from Web Content Accessibility Guidelines (WCAG) 2.
WCAG 3 is intended to be easier to understand and more flexible than WCAG 2. The flexibility is to address different types of web content, apps, and tools — as well as organizations and people with disabilities. The goals for WCAG 3 are introduced in the Requirements for WCAG 3.0 First Public Working Draft, which was also published today. WCAG 3 proposes a different name, scope, structure, and conformance model.
We encourage you to start by reading the WCAG 3 Introduction first to get important background on WCAG 3 development, review guidance, and timeline.
We are seeking input from evaluators, developers, designers, project managers, policy makers, people with disabilities, and others — particularly on the structure and the draft conformance model. Additional review guidance is in the blog post WCAG 3 FPWD Published.
Please submit comments by 26 February 2021.
---
OZeWAI 2020
13th January, 2021
Check out everything you may have missed at OZeWAI 2020- the entire playlist is now live here. You can also view the entire program here.
---
Summer Promo
1st December, 2020
We here at Web Key IT have a lot to be thankful for this year. It's been a year of chaos for most of the world, but for us we have been fortunate enough that all our employees work safely from home, and we've continued to experience growth and influx of work throughout the year.
As a token of our appreciation, we've decided to offer special summer promotion for December 2020-February 2021 where we are offering a WCAG 2.1 audit on your website or app for the price of a WCAG 2.0 audit.
Click here for more information on this great deal!
---
Featured in Business News, WA

12th June, 2020
We were featured on the Business News WA website- check out the article here!
---
White Paper Release for GAAD
21st of May, 2020
Happy Global Accessibility Awareness Day! To honour this event today, we have released our white paper, "Digital Accessibility: Perceptions, Expectations and Reality" which is available free of charge from this page. This paper is the result of research conducted last year with both organisations and individuals in Australia and internationally. Organisations were surveyed to ask their perceptions of the importance of digital accessibility and the accessibility standards of their websites and other digital material. Individuals, both with and without disability, were asked about their chief issues with websites, applications etc., and what they felt of the current state of digital accessibility. The results of these surveys were then compiled and Web Key IT has produced this white paper showing the reality both in Australia and internationally. The research is unique in that it surveyed both groups at the same point of time, producing some very interesting results. We would like to thank all who participated in the research and invite everyone to download the paper free of charge. We look forward to hearing your feedback!
---
Online Training Course
13th of May, 2020
Web Key IT is offering a one-week online training course in Digital Accessibility. The course features interactive live lectures by digital accessibility experts and includes additional short assignments leading to the awarding of a Certificate of Completion. Find out more here!
---
Flinstones or Jetsons?
27th of April, 2020
Vivienne Conway's Keynote from the W4A Conference for 2020 "A return to community: Flintstones or Jetsons?" is now available online on the ACM Digital Library website, available here.
---
Keynote Speaker Web4All 2020 Announcement
24th March, 2020
We are very proud to announce that our own Director, Dr. Vivienne Conway, will be one of the Keynote speakers at this year's W4A 2020 Conference. Her topic is "A Return to Community: Flintstones or Jetsons?" which you can read more about here.
Registration for the Web4All conference is available at WebConference 2020. Please note, choose the 1-for-5 online registration, as this gives you access to Web4All and ALL presentations at The Web Conference 2020, Taipei from April 20-24.
---
ECU 2019 Web Key IT Web Accessibility Prize
10th March 2020
Congratulations to Woongyeol Choi, who won our Web Accessibility Prize at the ECU School of Science Prize Giving Ceremony on March 6th at Joondalup Resort. We are so proud to have sponsored this prize again this year, and to present it to such a worthy candidate. Well done Woongyeol!
---
Special Visitor: Karen Myers
16th February, 2020
On Friday morning at Empired offices in Perth's CBD, Karen Myers from the W3C gave a great talk about the wide breadth of work W3C is currently doing. The event was sponsored by Web Key IT, Empired and the W3C.
From left to right: Graeme Hill – Practice Lead Digital WA, Empired Ltd, Damian Fischer – Business Development Manager APAC - Ashurst, Damien Herbert – Practice Lead Digital WA, Empired Ltd, Shaun Choo – Digital Advisor – Lenox Hill, Amanda Mace – Operations Manager – Web Key IT, Karen Myers – Business Development Leader Americas and Australasia, W3C, Michael Carter – Manager International Trade and Investment Centre, WA Chamber of Commerce, Eugene Lim – President, Singapore Chamber of Commerce (WA)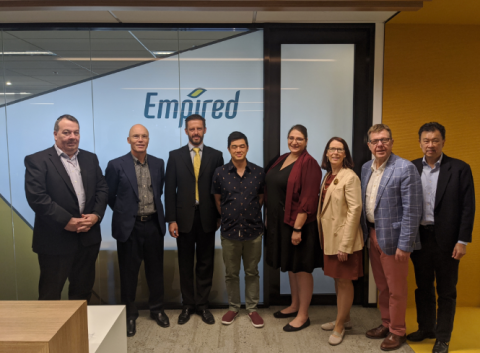 ---
EPUB and Digital Publishing Survey
15th February, 2020
The Publishing Business Group and the EPUB 3 Community Group within the Publishing@W3C activity have put together an EPUB and Digital Publishing Survey to gather information about the current use and future needs for the EPUB standard and other publishing interests to help guide our work. We are reaching out to you to ask that you participate by answering our EPUB and Digital Publishing Survey and that you share the survey with your colleagues and anyone you can think of who may have input. You can access the survey here.
---
City of Cockburn WALGA Article
15th of February, 2020
This week, we made WALGA's Western Councillor Newsletter on how we've assisted the City of Corkburn with achieving WCAG 2.1 Accreditation. You can read all about it on page 9 of this link: Western Councillor Issue 105.
---
Working with W3C on "Introduction to Web Accessibility" Online Course
13th of January, 2020
We are currently working with W3C developing the new "Introduction to Web Accessibility" free online course. This is in cooperation with UNESCO IITE, and she will be teaching the Business Case and Benefits (Module 3 of 5).
Enrolment is now open to access course information. This link, connects to the syllabus and information about other modules: Introduction to Web Accessibility Enrolment. You can read more about the course at Press Release on Introduction to Web Accessibility Course. The free online course is now open for enrolment which will commence 28 January, 2020.
Read all about the development of this course and view photos from behind the scenes of filming here!
---
Human Rights Commission Discussion Paper
3rd January, 2020
The Australian Human Rights Commission has now released their Discussion Paper on Human Rights and Technology, to which Web Key IT was a responder. They are welcoming comments and input if you'd like to get involved in a worthy project. A noteworthy finding was a need for more accessible technology for people with disabilities, which is very encouraging! View the paper here.
---
For news items prior to 2020, please see the News Archive page.