Working with W3C on "Introduction to Web Accessibility" Online Course
January 13th, 2020
Our Director, Vivienne Conway is currently working with W3C developing the new "Introduction to Web Accessibility" free online course. This is in cooperation with UNESCO IITE, and she will be teaching the Business Case and Benefits (Module 3 of 5).
Enrolment is now open to access course information. This link, connects to the syllabus and information about other modules: Introduction to Web Accessibility Enrolment. You can read more about the course at Press Release on Introduction to Web Accessibility Course. The free online course is now open for enrolment which will commence 28 January, 2020.
"Introduction to Web Accessibility is the sixth online course available on W3Cx, W3C's online learning platform on edX, the world's leading non-profit online learning platform. Since the initial HTML5 online course launched on W3Cx, over 950,000 students from around the world have enrolled in a W3Cx course. Whether starting their professional life, or embarking on a new chapter, many students have seen their career prospects expand as a result of taking courses in the W3Cx Front-End Web Developer Professional Certificate Program: HTML5 & CSS Fundamentals, CSS Basics, HTML5 Coding Essentials and Best Practices, JavaScript Introduction, and HTML5 Apps and Games.
Students can audit the Introduction to Web Accessibility for free, or choose to receive a Verified Certificate for $99 USD. A verified certificate from edX can provide proof for an employer, school, or other institution that a student has successfully completed an online course. Verified Certificates enable students to gain access to graded materials, unlimited course materials at any time, and to showcase their accomplishments on their resume. "
---
Recently we conducted the videotaping of a four-part video segment illustrating digital accessibility in a business environment. We thought we'd share a few photos from the filming of the videos. Never having participated in this type of film production before, it was an eye-opening experience! It was amazing to work with such talented actors and production crew.
In the following photo, the Chief Marketing Officer attempts to discuss some statistics in a table with the General Manager, who happens to be colour blind and is unable to read the figures because of the colour choice.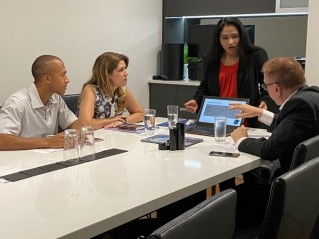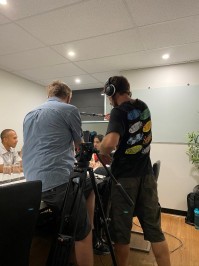 We've included this photo to demonstrate the filming environment – it was a little crazy in a small boardroom with the producer, sound and film crews.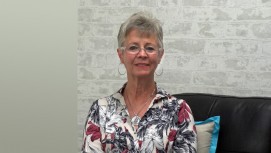 Lastly, is a screen capture of our Director, Vivienne Conway recording the opening and closing remarks for the module. The production team from 21CC Broadcast Productions were helpful in putting us at ease and were a delight to work with. They anticipated all the details for the video series including the setup, scenes and props and sourcing the professional actors. Our thanks to Steven Graham, Jarrod Norman and the crew at 21CC. We hope to have the chance to work with you again.