What do we do?
We test thoroughly and report the findings to you, and we can walk you through the issues that we have identified to assist you in prioritizing your remediation efforts. We also provide training to your staff so that the accessibility of your website is maintained as you make changes over time. Finally, we provide customized consulting services and are available at any time to provide the assistance you need in meeting your digital accessibility goals.
How?
We have a range of options for you to choose from including:
Technical compliance audit in line with WCAG 2.1 to level AAA

Combination of technical compliance with user testing by people with a range of disabilities

Tailored packages of services

Consulting services where we work alongside your developer and content editors to ensure is content developed accessibly

Provide training options to assist your staff in keeping your website accessible

Provide optional annual or monthly testing regularly
Where?
Our offices are in Perth, Western Australia, but we're constantly growing, so we are happy to work remotely with your team.
We report: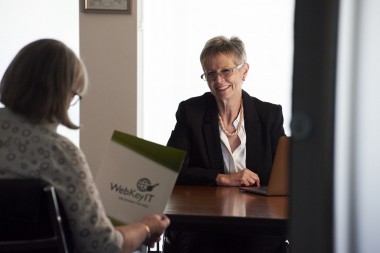 Our extensive digital reporting includes:
Summary

WCAG checklist and graphs illustrating compliance

Page by page analysis by WCAG 2.1

Color analysis

Figures illustrating areas requiring remediation

Best practice recommendation

Analysis of documents in other than HTML format
We talk you through the report:
We don't just deliver the report to you. If you need us to, we will walk you through the report via a conference call or in-person if COVID regulations allow so in your region. We're here to help explain any areas you are unsure of and make sure you understand what you need to do to implement fixes.
You adjust:
We give you a timeframe during which you will need to make the necessary adjustments. If you need advice, just ask. We will support you through the process by email or phone, making sure you are comfortable with the changes you are making or helping you to find suitable alternatives if needs be.
Changes all made?
Now we test again, checking all the areas which we identified in the report as causing problems.
Everything fixed!
Fantastic! You can now look forward to receiving an email that will provide our industry-recognized accreditation Digital Accessibility Centre logo and validation certificate for you to upload onto your site. All your site visitors now know that you have taken the time and trouble to make sure that you have designed a truly inclusive website experience.
Result: Digital Inclusion – a reality.
It is a serious subject, and it is a legal requirement but you can still enjoy your journey towards accessibility!
What else do we do?
Our services and packages include:
Technical and user testing of full websites

Developer packages include testing wireframes, templates, and final implementation

Training

Consulting

Writing policy

Remediating documents